Ford Service and Repair FAQs
Ford Service & Repair FAQs
Frequently Asked Questions About Routine Ford Maintenance
It's not always easy to know exactly what your Ford car, truck, or SUV needs in terms of regular maintenance. Fortunately, the certified professionals in the service center at Middlekauff Ford are here to help.
How Often Should My Oil Be Refreshed?
Your owner's manual is an excellent resource that lists all kinds of useful information, including optimal oil change intervals. If your Ford uses synthetic oil, you can probably change it every 5,000 miles or more.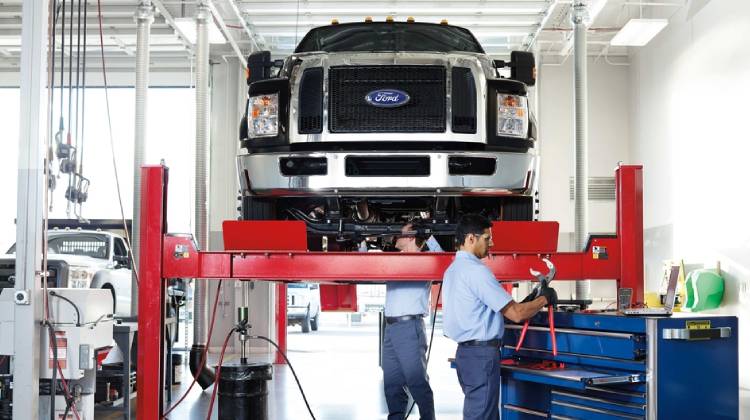 Should I Check My Vehicle's Fluid Levels Very Often?
Some fluids, like windshield wiper fluid, will be used more at certain times of the year. As a general rule, check your fluids every time your oil is changed. Brake fluid, coolant, transmission fluid, engine oil, and other fluid reservoirs are clearly labeled in your engine, or you can ask a technician to check them.
Should I Change My Air Filter?
A good rule of thumb is to change your air filter every other oil change. If conditions are dusty, you may need to change it more often.
What Benefits Do Winter Tires Offer?
Winter tires have two main advantages: a deeper tread and softer rubber that won't stiffen at freezing temperatures. They provide a firmer grip than all-season tires will in our Rupert, ID area winters.
How Often Should I Replace My Brake Pads? What Are The Warning Signs?
This answer is different for every driver, depending on commute and driving style. Stop and go traffic will wear down brake pads faster than a commute that is primarily on the freeway. Listen for the characteristic screech that indicates a low brake pad as the best indication that it's time for a replacement.
Does My Car Battery Need Replacing?
You'll get several years of use from your battery, but if you notice weak performance from headlights, radio, or other electronics, it's a hint your battery's weakening. Cold mornings in Buhl, ID are especially hard on a weak battery, so have it inspected before winter temperatures get especially low. 
How Often Should Tires Get A Rotation?
If you drive a typical amount of miles each year, you can expect to have your tires rotated about twice a year. Rotating them regularly will make your tires last longer.
How Much Air Pressure Do My Tires Need? Does The Number Change During The Year?
Ford lists ideal air pressure on a sticker placed on the end of the driver's door and in your owner's manual. You may find that certain conditions require more or less air than manufacturer recommendations stipulate.
Are My Check Engine Lights Coming On A Problem?
There are certain warnings you never want to ignore, like your oil pressure light illuminating. Have your technician run a diagnostic to determine the cause of a lit engine light. 
What Does My Low Tire Pressure Warning Light Mean?
Outside temperature can affect your pressure reading, so give the gauge a little time to see if pressure readings return to normal. If they don't, assume you've got a leak and have the tire repaired.
How Often Should My Brakes Be Inspected For Wear?
A technician will most likely check your brakes every time you have your tires rotated or a new set installed. If you experience a weakening of brake pressure, have them checked immediately.
Why Should I Have A Tire Rotation?
Uneven wear spots can develop on your tires if they remain in position for too long. A strategic pattern for moving them will keep them from wearing out prematurely.
What Does A Coolant Flush Entail? Do I Need One?
Most fluids in your engine degrade over time even when your vehicle isn't being driven. Moisture finds its way into sealed systems and degrades the performance of oils and fluids. Flushing coolant occasionally refreshes your coolant system and allows it to perform optimally.
Schedule Your Maintenance At Middlekauff Ford In Twin Falls, ID
To schedule an appointment with our service center, use our convenient scheduling form or just give us a call!
How can we help?
* Indicates a required field