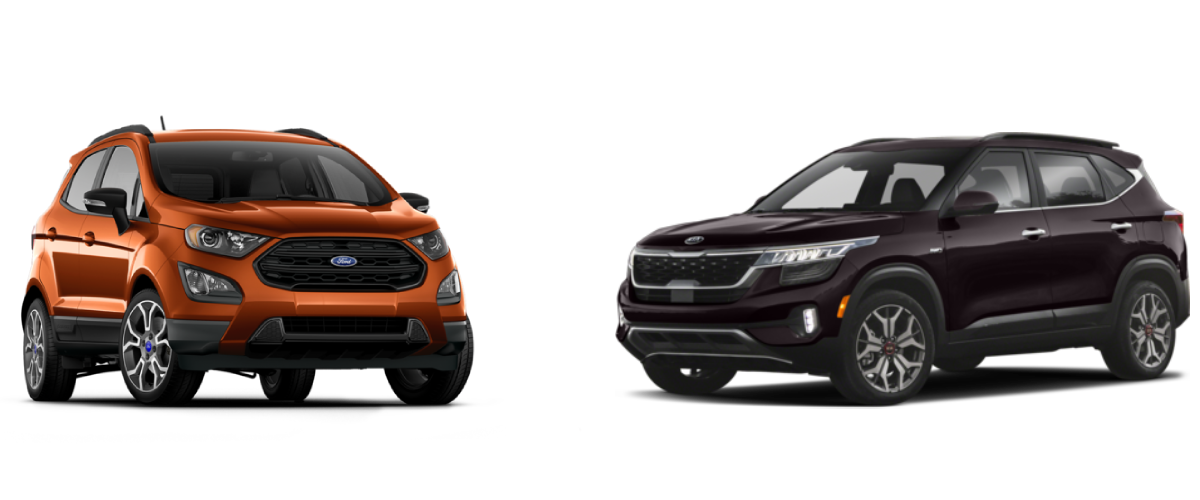 New Ford EcoSport vs KIA Seltos
Twin Falls, ID
Choosing Between the Ford EcoSport and the Kia Seltos at Middlekauff Ford
When choosing your new compact SUV around Twin Falls, IN, you need to consider many different things. Do you want to buy American-made or purchase a foreign model? Those two options each come with a whole slew of alternative information you need to weigh out. Then, there's choosing between efficiency and power, safety, entertainment, and much more.
Right now, two compact SUVs are attracting a lot of attention: the Ford EcoSport and the Kia Seltos. Both of these car models take pride in the eco-friendly features, but which one comes out on top? At Middlekauff Ford, we've decided to investigate both of these vehicles for ourselves to find out which one could best serve you. To do this effectively, we've compared these vehicles on their designs, safety features, technology, and performance.
 Design Elements and Style
Comparing the design of two vehicles may seem like a subjective matter, but that frankly isn't the case. Some universal design elements work for vehicles, and some don't. When looking at the EcoSport, what stands out is this compact SUVs domineering presence around Jerome, ID. Even though it's a smaller SUV than many currently on the market, it still has an intimidation factor that works in its favor, along with a sleek and streamlined design that shows off the vehicle's efficiency.
The Kia Seltos also comes with a very distinguished look. This vehicle impresses in terms of sleekness, but it has a slightly odd look to it as well. This is characterized by the vehicle's weak overall roofline, which sits atop a sturdy frame and looks rather weak and unimpressive. In contrast, the EcoSport's design is seamless and flows together well. When it comes to design, we have to give the edge to the Ford EcoSport.
Safety Features
Safety is on the mind of every Burley, ID driver, but that isn't always the ideal scenario. Drivers want to feel secure in their vehicles, and the best way to make someone feel secure is to make them feel like they're never in danger. The Ford EcoSport comes equipped with a variety of safety features to enhance driving. These include the Ford Co-Pilot 360 technology, which provides driver assistance features to aid you when you're in the driver's seat around Rupert, ID.
The Kia Seltos has available driver-assist technology as well but at a slowly reduced availability. Whereas with the EcoSport, you're receiving cross-traffic alerts and a rearview camera with the standard model, that isn't the case for the Seltos. For available safety features, we have to give this one to the Ford EcoSport as well.
 Connected In-Vehicle Technology
In this day and age, people want seamless device connectivity in their vehicles. Passenger entertainment should be guaranteed in modern vehicles as a given, whether in the form of touchscreen displays, high-quality audio, device connectivity, or a variety of these.
With the Ford EcoSport, you'll receive an available navigation system to make planning your road trips easy. An auto start-stop engine also saves you mileage and gas usage by automatically turning off your engine when not in use, like at red lights and stop signs. The EcoSport also features an LTE hotspot for easy Wi-Fi accessibility, plus the ability to hook up Alexa on your drives around Buhl, ID.
The Seltos also features some advanced technology. These include remote startup features, wireless key entry, and decent smartphone connectivity. These technology features allow just about anyone to connect their devices. However, navigation systems are only available in certain models, and for that, we have to give the edge to the EcoSport again.
Performance
The Ford EcoSport comes packing a 1.0-liter engine, with an available 2.0-liter engine. Standard front-wheel-drive ensures easy driver handling, while the available four-wheel-drive helps that purpose across a variety of campaigns. The Kia Seltos has a 2.0-liter engine as a standard option, and also offers four-wheel-drive as a built-in option. While on paper the Seltos may look better, we found the handling and driving ability to be slightly more manageable on the EcoSport.
Visit Middlekauff Ford to Learn More
If you'd like to learn more about how the Ford EcoSport beats the competition, we encourage you to visit our Twin Falls, ID Ford dealership today. You can take this impressive compact SUV for a test drive to try out all the great features in person. We look forward to working with you soon!