Middlekauff Ford is proud to support Idaho's Make A Wish Program! On Wednesday March 14 MIddlekauff Ford, Idaho Ford Dealers, and KMVT are joining forces to raise airline miles for Make A Wish.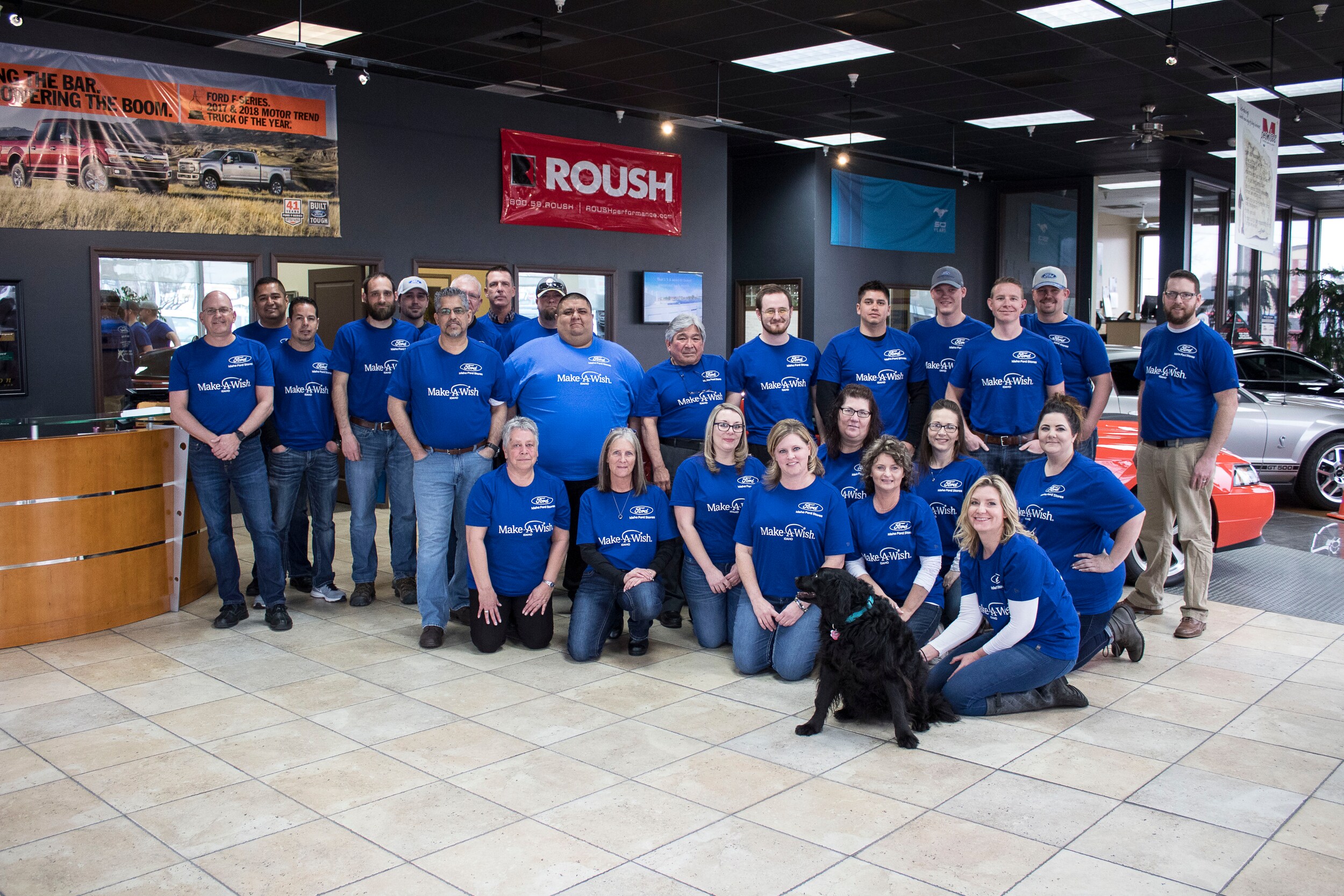 TO DONATE AIRLINE MILES CALL KMVT – (208) 933-2800
Make A Wish's Mission: Together, we grant life-changing wishes for children with critical illnesses.
There are about 150 Idaho children diagnosed each year with a critical medical conditions.
Make-A- Wish Idaho grants more than 90 wishes per year.
Last year 93% of all Idaho wishes are travel-related, which means we need lots of air miles to
reduce the cost of airline expenses. We fly entire families, not just the child.
We grant each child's most heartfelt wish, which means sometimes we grant wishes to travel
internationally. Airfare to travel abroad is very costly.
Each ticket takes at least 50,000 miles, so, a family of four would need 200,000 miles to fly to
their destination. Five people would require 250,000 miles of donated air miles!
We need up to 20 million air miles annually to meet those needs. If we don't have the air miles,
we need to pay for the tickets which make up a very significant part of our wish budget. Having
donated air miles greatly reduces the expense to Make-A- Wish Idaho.
People may call in and give miles from Alaska/Horizon, Delta, and United airlines. To donate
Southwest, American or JetBlue Miles they can go to our website at Idaho.wish.org to find out
more information. If you would like to send a cash donation, please send a check to Make-A-
Wish Idaho, 310 W. Idaho St., Boise, ID 83702.
Our goal today is to collect 500,000 Air Miles to use for Idaho wish families to travel to their
wish destinations.
When a child is diagnosed with a life-threatening illness, their world suddenly collapses. They
are robbed of a carefree childhood and are forced to deal with realities that no child should
have to undergo. Once filled with school, play, extracurricular activities and time with friends,
their new reality is a constant string of doctor's appointments, frightening and sometimes
painful tests, surgical procedures and hospital stays. According to a national wish impact study,
89% of healthcare professionals surveyed said they believed the wish experience influenced
positively the wish child's physical health. 96% of parents said that the wish strengthened their
families and 99% of parents reported that the wish experience gave their children increased
feelings of happiness. A donation of Air Miles helps Make-A- Wish Idaho fund the fulfillment a
child's most heartfelt wish, a wish that could be a turning point in their battle for health.
What we need to accept air miles:
Airline
Name on Account
Account Number
Number of Miles being donated (this is critically important) If they say "all miles" they are going
to need to call the airline and verify the amount in their account.
Donor contact information
Phone Numbers for those needing to contact the airline to determine number of miles in their account:
Delta – Delta.com, 1-800- 221-1212
United – United.com, 1-800- 864-8331
Alaska Airlines- 1-800- 252-7522
TO DONATE AIRLINE MILES CALL KMVT – (208) 933-2800