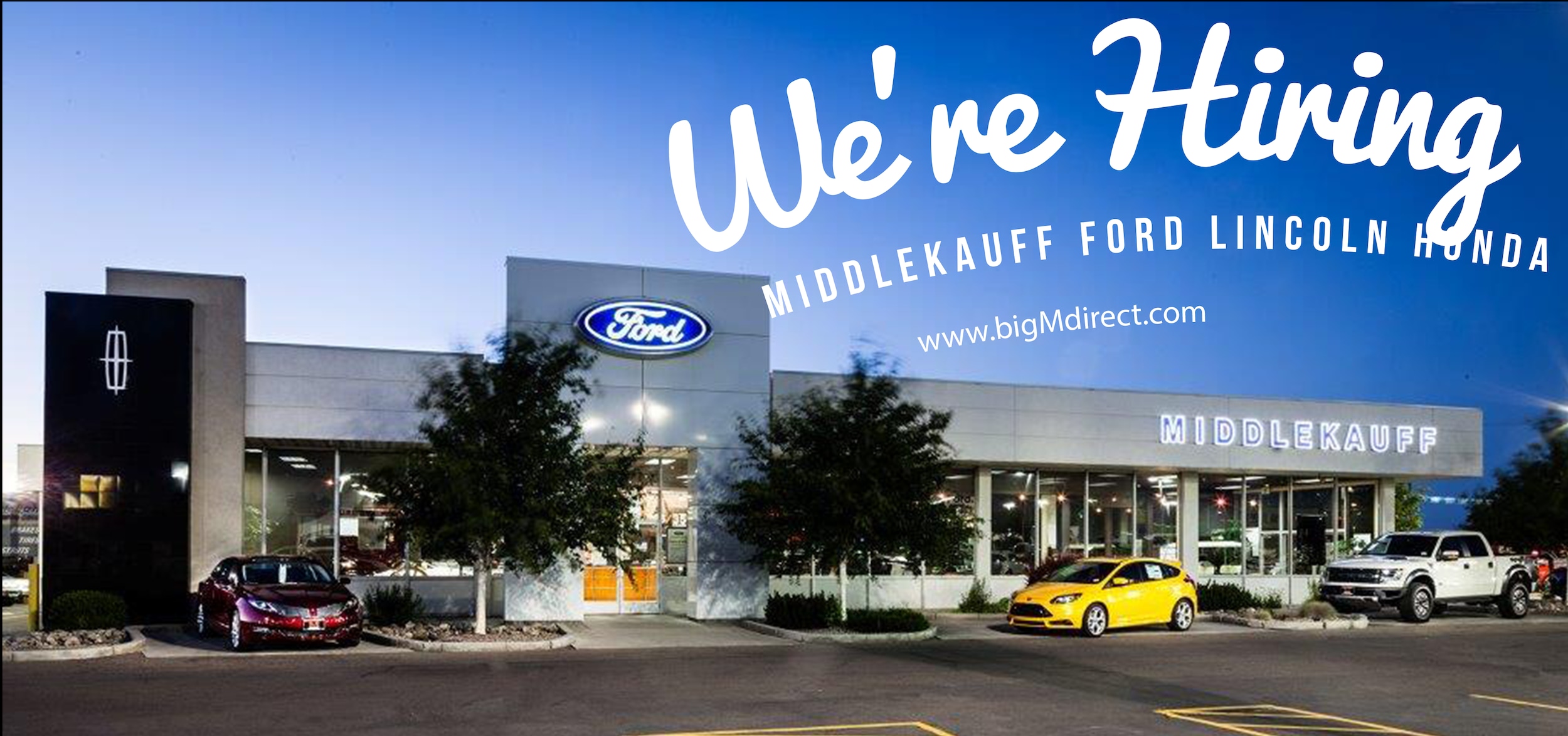 Finance Manager
Middlekauff Automotive Group is currently seeking an experienced Finance Manager to join our team. In this position, you must have excellent communication skills and be able to listen to customers' needs and explain finance processes and products. It is critical that you have great attention to detail when completing tasks, to enable an efficient flow of information and to ensure our guests receive a World Class Customer Experience.
Job Type: Full Time
High earning potential-Commission based.
Requirements:
Experienced F&I professionals who enjoy the auto industry, appreciate a well-run organization with clearly defined processes, and who are looking for a long term successful career.
We seek F&I professionals with a solid track record and with excellent references.  We offer only value based products. 
Honest, hardworking, positive, and fun to be around is a must. Many of our employees have been with the company 15+ years.
We are looking to hire the best so we ask all applicants to take a drug test and to pass a background and driver's license checks.
Responsibilities:
Attends all staff meetings, training, and educational classes as required.

Ensure timely funding of all contracts and control of contracts in transit; obtain resolution of all returned contracts.

Maintains accurate sales documentation

Conduct frequent deal audits to ensure dealer, manufacturer, lender, state and federal compliance.

Establish and maintain good working relationships with multiple financing sources

Maintain strict confidentiality of personal customer/employee information in compliance with the Federal Trade Commission Safeguards Rule and adherence to the provisions of the Gramm-Leach-Bliley Act as it pertains to automobile dealerships.


Provides timely and accurate reports as required

100% menu presentation.

Perform other duties as assigned.

Meet or exceed set goals-standards.
Qualifications:
High school diploma or GED required; some post-high school education or training preferred

Excellent communication and interpersonal skills to interact professionally with customers, co-workers, management, and others.

1 + years of experience in automotive finance manager position.

Must be willing to work as part of a team.

Intermediate computer skills, familiarity with Word, Excel, Outlook, and web based manufacturer platforms.

Ability to motivate, inspire, and influence others.

Advanced phone skills.
Benefits:
Health Insurance

Competitive Pay Plan

Dental Insurance

Vision

Supplemental-disability.

Life insurance

Paid time off.
Please send resume to Tiffanee Martinez - tmartinez@bigmdirect.com
Sales Consultant
The sales consultant serves as a guide to facilitate the Customer-Centric Sales Process. Needs Assessment, at customer's pace, to discover customer preferences, needs and buying motives. Matches customer needs with vehicle model and equipment' presents vehicle in terms of customer's interest. Offers and accompanies customer(s) on Demonstration Drives. Offers customer involvement trade-in evaluation, presents financial proposition, satisfies customer concerns and asks for the order. Conducts deliver process, and follows up in a prescribed manner after delivery and throughout ownership to develop customer loyalty. 
Achieving High Standards: 
Ensures a high-quality, effective and professional experience is provided to every customer following the dealership's Sales Process Maintains high ethical standards in daily activates  

Develops and achieves challenging individual goals and experiences

Establishes knowledge base of accessory packages available to customers

Establishes knowledge base  regarding all products, services, customer demographics and competitive automotive makes and models. 
Working Effectively with Others: 
Builds productive working relationships and consults with others as necessary

Has an approachable style; fosters open communication through active listening

Takes initiative to help others as needed  

Actively listens to concerns of customers as well as coworkers and takes prompt action to respond to their needs

Speaks clearly, concisely, and effectively; produces accurate and clearly written documentation of services

Persuades others to accept a point of view or obtain comment

Follows up with customers to ensure their needs have been met

Promotes cooperation and teamwork through actions   
Handling Pressure: 
Effectively handles changes in the sales department

Maintains composure in dealing with customers

Implements and adapts to changes quickly and efficiently 
Managing Complexity: 
Coordinates with service department, body shop, and other areas to ensure that customer requests are met

Identifies and supports opportunities for methods/process improvements in the sales department

Recommends improvements for the sales department   
Understanding and Using Business Knowledge: 
Applies retailing techniques and sales processes

Establishes knowledge base of auto industry competition

Maintains working knowledge of finances, lease and insurance programs  

Participates in departmental and dealership-wide meetings 
Applying the Basics:
Uses computer to look up and monitor requests

Follows sales processes to ensure standards are met

Maintains a clean, professional, environment

References manuals and other documents for information
OTHER REQUIREMENTS:
Valid Driver's License

Insurance Background Check  

Clean background check
Working Conditions:
Physical Requirements:            
Moving throughout the sales department and grounds

Using computer to look up information  

Using equipment consistent with industry standards  

Using a video display terminal

Driving a vehicle            
TO APPLY: Bring your resume in. At Ford ask for Eric Rehn, at Honda ask for Aaron Johnson. Online applications will not be considered.